Janitorial Services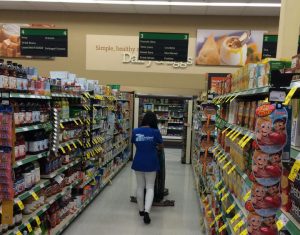 Commercial Janitorial Services in Calgary
For commercial spaces, it is very important to maintain a healthy environment for all of its patrons. For employees and visitors, it is very easy to catch illnesses by coming in contact with hard surfaces. If you desire to create and promote a high health standard, it is surely beneficial to hire regular Office Cleaning. You can be confident that you are eliminating the spread harmful bacteria and viruses on surfaces. Communal spaces such as staff kitchens, lounges and meeting rooms are breeding grounds for these bacteria. You can put your trust in a reliable Calgary Commercial Janitorial Service. You can rest easy knowing your space is being carefully maintained and cared for.
We provide thorough and discreet services for your Calgary based commercial space. We accept jobs for spaces of all sizes. We provide basic services like surface cleaning, trash maintenance, cleaning of common areas and lobbies. We are a reliable Calgary Commercial Janitorial Service. We believe in maintaining and promoting cleanliness to improve working atmospheres. We are very meticulous with the work we do. As a highly regarded Janitorial Service provider we make sure we take care of every nook & cranny with our Eco-Friendly Cleaning Products. Our products are safe for children and pets. We take pride in being a Calgary Cleaning Company that provides a reliable and professional commercial janitorial cleaning service.
Our staff upholds to an efficient work ethic that is perfect for either corporate or more relaxed working environments. We are proud to offer premium commercial janitorial cleaning services in Calgary, AB. We can create and customize affordable packages for your space depending on your specific Office Cleaning needs. We are also able to create contract based packages for our Janitorial Services if that is more convenient for your establishment. Call us for a FREE ESTIMATE.