Residential Snow Removal Services
Residential Snow Removal Services in Calgary
In Calgary, it is predicted to snow almost 10 months out of the year. Repeated and laborious Snow Removal can be literally back-breaking. Snow build up in driveways can hinder transportation plans. Ice patches can be potential safety hazards. Constantly having to shovel your driveway and sidewalk can be tiring and time consuming. Sometimes can be the cause of injuries that can affect your daily life. Ice forming on stairs, access ramps, driveways or even the sidewalk in front of your home can be dangerous. For Residential Snow Removal Services in Calgary require Removal Equipment. This can be costly to acquire and maintain for some home budgets.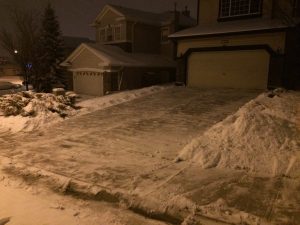 We provide exceptional Residential Snow Removal Services in Calgary. We utilize top of the line Snow Removal Equipment. We provide safe and effective Ice Control Methods. You can be assured that your family is safe from slip related injuries. Work can be scheduled on a seasonal or contractual basis. When you invest in a premium Snow Removal Service, you are freeing up time and energy to take care of more urgent matters. Our Snow Removal Methods and Ice Control Solutions are eco-friendly and safe for your family. At Zanjani, we can boast that our services are reliable and efficient. We are committed to helping you avoid the unnecessary stress that our unpredictable weather brings us. Clearing your driveway beforehand can be beneficial towards your travel time during the winter season.
We offer Contracting Services with affordable rates. Our prices may vary based on the size of the job and your specific needs. We also offer a fantastic referral program, where you can be eligible to receive 10% off your service, please do not hesitate to contact us to find out more. Please call us for a FREE ESTIMATE for your Residential Snow Removal Services & needs.